Pocket: Save. Read. Grow.
Always Have Something Interesting to Read
Reading a newspaper can be a frustrating pastime. You will be able to find out about of things that you are interested in, but also will trawl through pages regarding topics that you don't care about. Wouldn't it be ideal if you could find a way to just read stories that you are interested in and with this reading app you can?
If you don't have the time to go through them when you first see them, then they can be saved and read when you have the time. It can be a story, a video or something that has just appeared in the news, Pocket, Save, Read, Grow has then all. If you are relaxed and not rushing to get through as many as you can, then you will have a more enjoyable experience perusing them.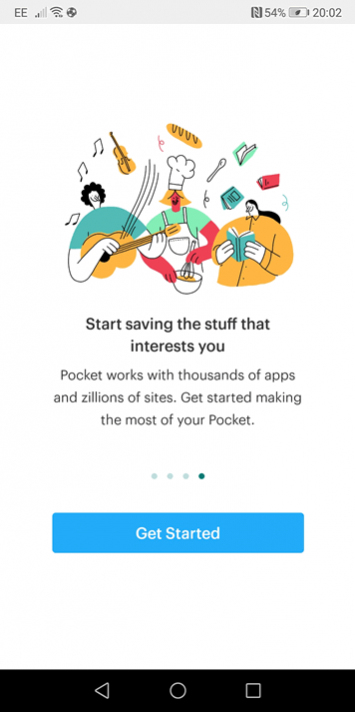 There are so many things that can be saved and you will soon wonder how you managed to get by without Pocket. You will be able to save content wherever you are and you can be sure that you won't miss anything that really interests you.
You could save recipes, videos, web-pages stories, news articles – in fact it can be anything that appears online. It is not just local publications that are available, but you can use all of the well-known sources. There is the Washington Post. BBC News, New Yorker, Twitter, Newsweek, Youtube, Buzzfeed and many more.
Registering is easy and you only need to fill in a few details. As with many apps, there are adverts and these can be removed even though you have to pay a fee to use the reading app.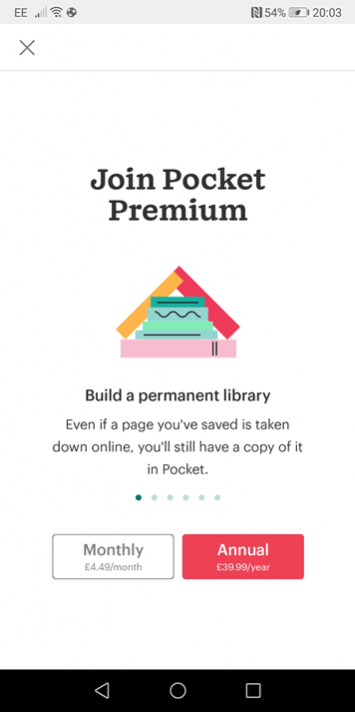 Pocket is laid out in a way that makes it an enjoyable experience when it is used. You can customize the display and ensure that it suits the way you want to read your information. Unlike other ways of reading, there will not be big gaps in the stories and the need to scroll through countless pages. It is easy to read and your eyes won't feel strained when you have read a number of articles. There are different themes that mean reading before bed is not a problem – they are sepia and dark
If you don't want to read articles then you could always listen to them. It will be totally hand's free and eyes free. Just sit back and listen to the stories. If you want, you can listen to the reading app while doing the housework or on the daily commute.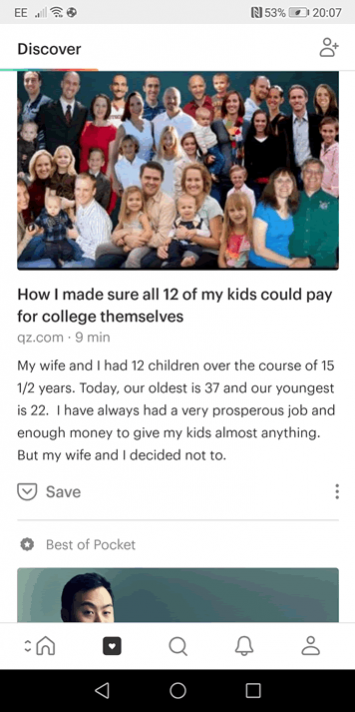 Once you have chosen the story it will appear in its entirety. You don't even have to be online to access it. Once you have taken the time to find the articles that you want you don't have to scroll around again. They are all there at your fingertips.
By searching, you will find a lot of great articles and videos that you would have otherwise missed. It is not like many other apps that only produce what they know will be flicked through but are nothing more than clickbait. Here they are solid and interesting things to read.
Features
Easy to read pages
No need to be online
You can read or listen to articles
Wide range of sources
Has a basic and premium range
Conclusion
There is so much that can be done with this app. It will save you time and give an enjoyable read. Articles can be saved, so can be shown to others. As you don't need to be online you can use it even when you are in an area with poor reception. All articles will be quality so you don't have to work your way through things that don't appeal to you in order to find something of interest.
---
Add a review
Tell us your experience with
Pocket: Save. Read. Grow.
RELATED PROGRAMS
Our Recommendations
---
---
---
---